About Optimum Chiropractic & Health Center
Our Purpose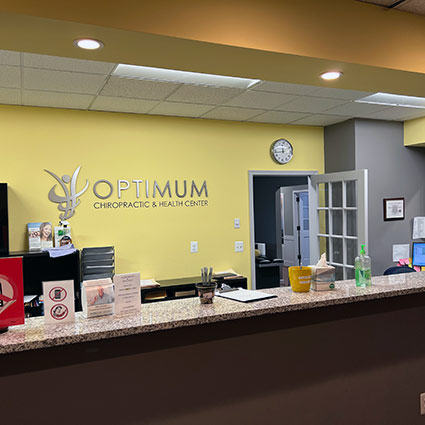 Our purpose at Optimum Chiropractic & Health Center is to help you feel good. Often that means first getting you out of pain, whether it's spine-related or in the extremities.
Once you're out of pain, we want to keep you feeling fantastic, so you can have a wonderful day every day, and your body can better deal with the stress of daily life. We accomplish these goals through a wide variety of chiropractic techniques—we have over a million dollars in state-of-the-art equipment that allows us to provide a level of care that's unmatched.
Patients are referred to us by neurologists, orthopedists, MDs and other chiropractors because Dr. Reza Nikpour has the experience and expertise to get the best results for patients.
Caring for the Community
Dr. Reza opened the practice in Annandale in 2002 because he grew up in the area and wanted to provide the best spine and wellness care possible to people in the community and in Fairfax, Burke. Our staff has been together for many years, and we go out of our way to make everyone who walks through our doors feel welcome and cared for. We treat every patient like our own family, and patients often say after one visit that they feel like they've known Dr. Reza their whole life.
Care You Can Trust
Integrity is a core principle for Dr. Reza and the team, and we will always be upfront with you. We can help the vast majority of our patients, and most who come to us expecting they need surgery don't need it after our care. But if Dr. Reza can't help you, he will tell you that upfront.
We achieve overwhelming success with non-surgical decompression for disc injuries, as well as treatment for neuropathy and scoliosis. These are specialty areas that many chiropractors are not educated in. So even if you've seen a chiropractor before, there's a good chance that Dr. Reza can help where others have failed.
Get Relief Today
Take the first step to getting out of pain and back to enjoying life. Contact us today to schedule an appointment.

About Optimum Chiropractic & Health Center | (703) 658-0967