Spinal Decompression in Annandale
Avoid Surgery, Heal Thoroughly
Spinal decompression therapy is a comfortable, non-invasive treatment that allows you to lay down while the AcuSpine machine decompresses the neck and the lumbar spine. By decompressing your lower back, the pressure is taken off of the nerves while helping you find relief.
Dr. Reza is the only chiropractor in the Virginia-Maryland-DC area that is nationally certified. This certification coupled with his experience allows him to provide the best care possible for your greatest healing.
Spinal Decompression technology is dedicated to helping those with:
Herniated and/or Bulging disc
Sciatica
Spinal Stenosis
Spinal Degeneration
Radiculopathy
Pinched Nerves
Facet Syndromes
A Relapse or Failure Following Surgery
Burning Sensations, Numbness & Tingling
Sleep Better, Function Better, Feel Better.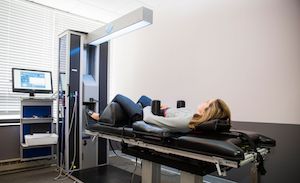 Spinal Decompression has an 86% or higher success rate and in our office we've seen 100% success. Within a week, most patients can notice this pain is reduced by 30-40% and treatment usually lasts 1-2 months.
After you've completed your entire treatment, we'll take an X-ray to observe your fascinating pre and post care progress. You'll be able to notice the disc space between each disc.
What to Expect
Through extensive training and certification, Dr. Reza Nikpour has established a protocol for patients greatest healing. By combining spinal decompression with your care, you can join one of the many patients who have seen incredible relief.
We'll always explain what we do and what it feels like before we begin care. On occasion, some may feel temporary soreness in the lower back as that area was stretched.
Electrical stimulation therapy will help your muscles relax before treatment.
Next, we'll adjust you in the area of concern.
You'll begin spinal decompression treatment for 30-35 minutes.
Cold laser therapy will help reduce inflammation and improve your healing.
The procedure usually takes around 30 visits lasting around one hour.
Contact us in Annandale today to learn how our service can make a difference in your health.
---
Spinal Decompression Annandale, Fairfax, Burke VA | (703) 658-0967