Dr. Reza Nikpour
I really enjoyed seeing patients feel better over the course of their treatment!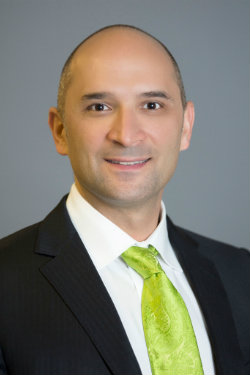 I volunteered in a chiropractors office in 1996. I thought adjustments were fascinating and really enjoyed seeing patients feel better over the course of their treatment. One day a young man came in with a sports injury and he couldn't walk. After his treatment and adjustment I really couldn't believe it; he was able to walk perfectly fine.
After seeing the patient leave in a completely different state than the way he walked in and I said, "that's it – that is what I want to do"
Chiropractor in Annandale : Chiropractic Education
In 1997 I received a Bachelor of Science degree in sports medicine from Virginia Commonwealth University (VCU). I then attended Parker College of chiropractic. I decided to attend Parker College of Chiropractic because, in my opinion, they were known as the best chiropractic school. After graduating in 2000 and using what I learned at my practice, I am even more confident that they are the best. I was very well educated and trained. The courses I enjoyed the most dealt with anatomy and chiropractic technique (such as Thompson, Diversified, Activator, SOT, Myofacial Release, etc) and I excelled in those courses.
My goal is to make sure that whoever walks into my office, whether it's a simple maintenance patient or a complex scoliosis case, that the patient feels at home and doesn't leave the same way they came in.
I believe in a head to toe tune up. If you come to my office with arm pain I will exam the entire body because the body has so many channels. All of these channels are connected and I need to make sure they are all working. I do my best to make sure that everyone who comes in leaves pain free and is on the road to recovery. Ultimately, I am here to educated and advise you as my patient, but the ball is always in your court.
Chiropractor and Decompression in Annandale helps even if you think nothing can be done!
I feel that everyone responds well to chiropractic and everyone has individual challenges that need to be addressed. Some of the most satisfying experiences in my practice have been when the patient thinks nothing can be done. One example of this is a patients I treated who was suffering from shoulder pain and was told by another doctor it was because one of her arms was shorter than the other. One adjustment and she felt 50% better! A few more adjustments and she was completely pain free (and her arms were now the same length).
I've also had patients that cannot open their jaws due to TMJ Dysfunction and with the miracle of chiropractic they are pain free and can fully open their mouth. I have patients that are recovering from shoulder and hip surgeries and are in a lot of pain, after treated with my rehab regime and adjusting the area they experienced a full recovery. Even more moving to me is when I prevent patients from having an unneeded surgery. One of my patients came in 5 days before being scheduled for lower back surgery due to a herniated disk. He cancelled his surgery, I treated him for 3 months, he is now pain free no surgery is needed.
I always say, "I love what I do."
Let me serve you! Give us a call and let's get started on your path to optimal health!
---