Meet Dr. Reza Nikpour
Restoring Hope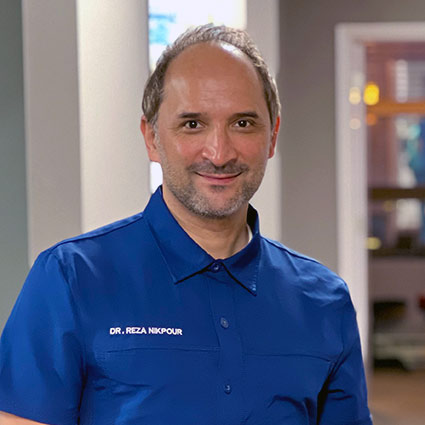 For Dr. Reza, his greatest reward is giving hope to his chiropractic patients, most of whom have lost hope and resigned themselves to giving up the things they love, or having surgery, or both.
Helping people get back to living life without pain brings
Dr. Reza incredible joy.
Discovering Chiropractic
Dr. Reza planned to be a dentist, but after working at a dental office for a day, he knew dentistry wasn't for him. Later, while pursuing his bachelor's in sports medicine at Virginia Commonwealth University (VCU), with the idea of becoming a physical therapist, a friend suggested chiropractic.
Because he didn't know anything about chiropractic at the time, Dr. Reza found a chiropractor he could shadow to learn what chiropractors do. When a dad brought his son in after a sports injury, the doctor had to help bring the boy into the office, because he couldn't walk on his own. After being adjusted, the boy walked out upright and with no assistance. That's when Dr. Reza knew chiropractic was his path.
He received his Doctor of Chiropractic from Parker College of Chiropractic in 2000, and has been nationally certified in non-surgical spinal decompression since 2006.
The Body Fixes Itself
Dr. Reza has seen the remarkable power the body possesses to heal itself, once interference has been removed. Chiropractic care gives the body the assistance it needs to restore optimal health, allowing true healing to occur from within, and often eliminating surgical intervention. Whether you come to us with a sports injury, a herniated disc, or because you want to live a healthier life, we'll treat you with the care and compassion we'd offer our own families.
Away From The Office
When he's not providing care to his patients, Dr. Reza enjoys spending time with his family and coaching youth soccer. He enjoys time with his two sons and is active in the community.
Let Us Help You Feel Fantastic
Contact us today to schedule your first appointment and get back to feeling great!

Dr. Reza Nikpour | (703) 658-0967