Additional Services in Annandale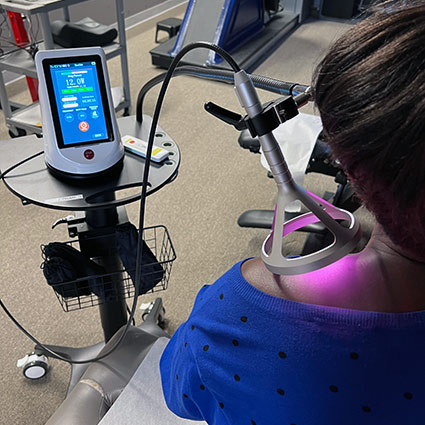 We have a million dollars worth of state-of-the-art equipment to meet the varying needs of our patients, and Dr. Reza has extensive advanced training and experience to provide the best care available.
Scoliosis
Scoliosis is a lateral curvature of the spine that may appear in childhood, but more often in adulthood. Some doctors recommend surgery, but that should always be the last resort. We have achieved reduction in the curvature of the spine, offering tremendous relief to patients without surgery. We stretch, strengthen and realign the spine, allowing the muscle memory to reset so that the muscles can learn to hold the spine in a more vertical position.
Neuropathy
Peripheral neuropathy is the sensation of tingling, pins and needles, and sometimes pain in the extremities. We have a Matrix machine that offers excellent results for patients with neuropathy. We can also treat digestive issues, pain and gout with the Matrix.
Ultrasound and Cold Laser
Ultrasound and cold laser therapies help facilitate healing, and are used in conjunction with chiropractic adjustments, as well as non-surgical spinal decompression. They work in different ways to help increase blood flow to the affected area. Increased blood flow brings increased healing nutrients, so your body can heal faster.
Our discs have very little blood flow naturally, so when we are working on disc injuries, cold laser therapy is an important tool for drawing increased blood flow into the discs.
Get the Comprehensive Care You Need
Dr. Reza offers a range of techniques and services to provide you the comprehensive care necessary to achieve your health goals. Contact us today to learn more about our services or to schedule your first appointment.

Additional Services Annandale, Fairfax, Burke VA| (703) 658-0967